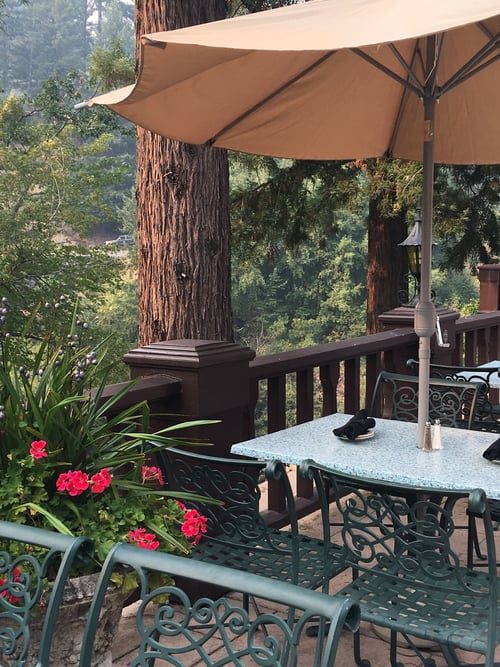 The Benbow Historic Inn, a Garberville, California inn, is set amidst striking gardens in a relaxing setting along the Eel River. An old stone bridge arches over the water providing a serene backdrop for guests lounging on lawn chairs with a book or a glass of wine. The rose garden features over 80 different varieties of this romantic flower, and our herb garden grows organic vegetables and herbs that we use in our own renowned restaurant.
Relax & Enjoy
Our large patio terrace beckons guests to relax in this tranquil environment. Towering redwoods edge the crisp green lawn and seasonal flowers bloom spring through fall.
Old growth oaks grace the courtyard with their twisting beauty. Landscaped flowerbeds and walkways behind the hotel invite you to wander through the garden or sit and observe the birds and butterflies.
Outdoor Dining & Entertainment
The terrace will officially open for breakfast, lunch and dinner Memorial Day Weekend. The Brunch menu is served from 8:00 am to 2:00 pm.
Dinner service begins at 6:00 pm. Reservations are suggested. Full beverage service is also available on our Terrace for Brunch and Dinner.
June 19th will be this year's premier performance of our Summer Music Series featuring favorite local artists. Performances take place Tuesday–Friday throughout the summer season, ending on September 21st. The music runs from 6:00 pm to 9:30 pm.