Benbow Historic Inn is proud to announce its start of a "Forest Bathing" Series. We have partnered with Scarlet Roley who has been certified as an ANFT Certified Nature Forest Therapy Guide by the Association of Nature and Forest Therapy Guides and Programs. 
Forest Therapy is a practice scientifically proven to improve physical, mental, and emotional health outcomes. It is not a 'hike' or a vigorous form of exercise, nor is it a naturalist walk. Forest Bathing is based on the Japanese practice of 'Shinrin-Yoku' it is designed to be accessible and therapeutic for individuals from all walks of life. Forest Bathing has been scientifically shown to reduce stress, boost immune function, restore attention, improve sleep, mood, memory and much more.
The Forest Bathing Series at the Benbow Inn is designed for those 14 and older. If you would like to request a customized session for an individual, family, or small group please contact Scarlet Roley at seaside.schoolhouse.trinidad@gmail.com. 
For more information on "Forest Bathing" go to: https://www.natureandforesttherapy.org/ 
The schedule for our Forest Bathing Series will be posted soon. In the meantime, please feel free to call us or reach out if you have any questions.
PLEASE PLAN TO:
Move slowly- During chilly seasons please dress in layers to keep warm, we cover little ground and do not generate much body heat. 
Leave the world behind- Please leave phones, cameras, and pets behind.

  

This is a time to deeply experience nature with as little to distract you as possible.
Have your senses available to you- Please refrain from wearing scented products or perfumes of any kind.
Touch the earth- Please wear clothes that you do not mind getting a little dirty
Let us know your needs- If you have any mobility issues, health concerns, food allergies, or questions please reach out ahead of time so we can accommodate you.
We will provide:
Transportation along the scenic Avenue of the Giants to and from the Forest Bathing destination
Pads to sit on if desired
Professionally facilitated Forest Bathing
Tea Ceremony with local plants and a healthy snack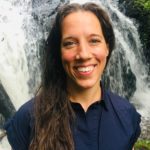 Scarlet Roley is an ANFT certified Nature and Forest Therapy Guide and Reflective Practice Facilitator. Through her business, Seaside Schoolhouse, she has worked supporting people of all ages to improve their physical and mental well being through a connection with nature since 2012. She has loved living behind the redwood curtain since moving here from the Great Lakes region 15 years ago.
Something is wrong.

Instagram token error.